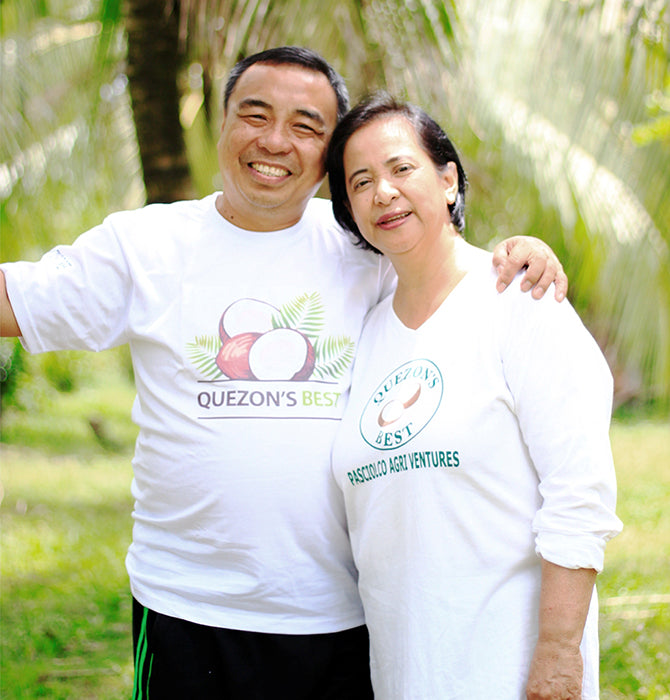 Who We Are
Maura and Lito were born and raised in the province of Quezon. They started their business with exportation of nata de coco to Japan under the company of their wedding godfather, Yoshihito Hagita. It lasted for only a year as the demand from Japan slowed down. In 1996, Yoshihito Hagita retired and let the couple took over his company and rename it to Pasciolco Agri-Ventures. As a chemistry graduate, Maura decided to develop coconut vinegar as their pioneer product. They started marketing their products in Manila and would join various local and international exhibits to market the coconut vinegar. The couple's vision was to produce organic coconut products that will be widely known both locally and internationally. By the year 2000, coconut jam was introduced in the market along with the brand name of Quezon's Best.
Up to present, the couple continuously developed organic coconut products. Maura and Lito expanded their product line to virgin coconut oil, coconut aminos, coconut balsamic, coconut sugar, and coconut syrup. 
Aside from being certified as organic products, the products are also Halal and Kosher Certified. Recently, the company achieved HACCP certification. The products are exported in countries such as USA, Canada, Russia Germany, Netherlands, China, Korea, Japan, Taiwan, Sri Lanka and Malaysia.
News & Articles
Exporting organic coconuts promises growth for Philippine community: Pasciolco Agri Ventures

Maureen Pasciolco of Pasciolco Agri Ventures

Transforming Lives and Livelihoods in the Philippines

Quezon's Best: Bringing your home the coco goodness it deserves